Þórunnarstræti 93
IS-600 Akureyri
Tel: (+354) 461 1160
Email: gulavillan@nett.is
Web: http://sulurguesthouse.is/

Guesthouse Súlur has accommodation in two buildings.
In Þórunnarstræti 93 and Klettastíg 6.

In Þórunnarstræti 93, which is open whole year, accommodation is provided in 8 rooms, with beds for one up to four persons and access to a kitchen. All rooms have TV and a wireless Internet connection. Pets are not allowed. The house was renovated in 2017 and now offers new rooms with private bathrooms.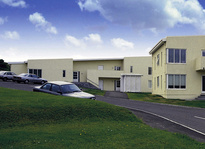 In Klettastíg 6, which is open from 1. June until 15. August, are three apartments, all with four bedrooms, two bathrooms, kitchen and a living room with a TV. In each apartment there are beds for up to 10 persons, suitable for individuals and small groups. Good handicap access. 
Note! All guests must check-in at Þórunnarstræti 93.