Kaldbaksferðir
Réttarholt
601 Akureyri
Tel: (+354) 867 3770
Web: www.kaldbaksferdir.com

The mountain "Kaldbakur" is 1,173 m high and the highest mountain on the north side of Eyjafjörður, offering a great view of the surroundings. On the West side of the mountain is a small glacier.
From January through to May there are offered daily trips with snow-cat. There are 3 trips a day, at 10, 13 and 16 o'clock. Minimum number of passengers is 10 adults. The trip takes about 45 minutes. Note - bring warm clothes.
The snow cat stops for about 15 minutes on the top, passengers can return down the mountain by walking, skiing, on sledges or taking in the view on board the snow cat.
Tours must be ordered in advance.

The snow cats seats 20 and 32 passengers.
Price 2018-2019:
Isk 7500 for adults
Isk 3500 for 6 til 12 years old
Free for children younger than 6 years, sitting on the lap.
To walk up the mountain takes about thee hours.
Arcticfreeride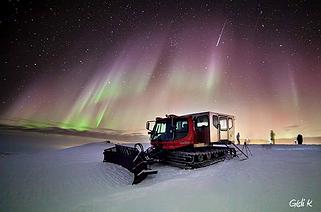 Ólafsfjarðarmúli
625 Ólafsfjörður
Tel: (+354) 859 8800
Email: info@arcticfreeride.com
Web: www.arcticfreeride.com
We'll drive to the top of the mountain Múlakolla 984m/3228ft and there you can enjoy the amazing view of Ólafsfjörður, Tröllaskagi (the Troll peninsula), Eyjafjörður, Hrísey, Grímsey,The Atlantic Ocean and nearby nature.
Take your ski or snowboard equipment with you and ski down Múlakolla and experience the beautiful nature of North Iceland

Tour info:
Operated: Jan - May
7 days a week
Departure time: 11:00 and 14:00
Duration: 2 hours
Departure from: Múlakolla / Ólafsfjörður
Minimum Passengers: 6 Adults

Note: Operation, choice of availability of activities are dependent on weather conditions.

We recommend that you bring:
Good warm outdoor clothing
Waterproof shoes
Pair of gloves
Camera
Price 2015-2016

Price 9.000 ISK.
Kids under 15 years 4.500 ISK.