Amazing Icelandic Adventures
Njarðarnes 6
600 Akureyri
Tel: (+354) 660 1642
Email: info@icelandicadventures.is
Website: www.icelandicadventures.is  
Daily departures at 11:00, 13:00, 15:00.
Max capacity 20 people at a time.
Pickup in Akureyri included.
Icelandic Adventures is a travel agency that offer all kinds of day tours from Akureyri, with our main focus on Snowmobile tours and Ice fishing tours. It is hard to find a parallel activity as adrenaline packed and rewarding as snowmobiling in the mountains and the view from there certainly emphasises that. If you do not have previous experience do not worry we tailor make every trip to fit your skill level.  
Adventure at Sulumyrar Winterpark - Snowmobile Tours
Extreme Adventures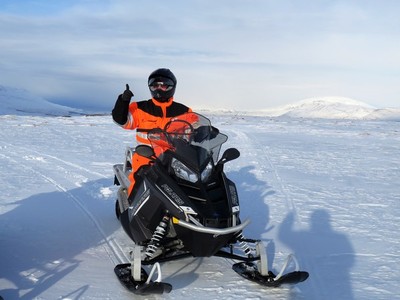 Siggi Baldursson
Aðalstræti 62-64
600 Akureyri
Phone: + 354 862 7988
E-mail: 
extreme@exteme.is
Website: 
www.extreme.is
Mountain center at Suluvegur above Akureyri.                                                                                                                                             

Akureyri snowmobile tours at Sulumyrar winterpark. The basecamp is 20 min from downtown Akureyri From December 1st, or before if the snow allows, daily departures at 13:00. In March, daily tours at 10.00 and 13.00. Bookings at Extreme Adventures website or by email.
Sport Tours, Dalvík

Melbrún 2
621 Dalvík 
Phone: +354 894 2967 / 899 8000
E-mail: sporttours@sporttours.is
Website: www.sporttours.is
There is nothing like snowmobiling in Iceland. Breathtaking is a word most often used by snowmobilers as they sit on a snow covered knoll, shadowed by the mountains in the Troll Peninsula in Northern Iceland, watching the northern lights dance across the sky in the winter or riding in the mild temperature in the spring and the continual daylight of the arctic sun. The view is unmatched, the experience unforgettable. The land of fire and ice rewards those who brave the elements with an experience like no other.