Akureyri offers good conditions for cycling. You can find many paths and trails to bike along within the town as well as in the surrounding area.
At the recreational area Kjarnaskogur you can enjoy many cycle trails and there is a specially designed mountain bike track.
Details of all the routes around Akureyri, can be found in the Akureyri Cycling Club site (in Icelandic)

You can enjoy a cycling tour in Akureyri and the surrounding area with Akureyri Activities.
---
Skjaldarvík bike rental
Skjaldarvík
601 Akureyri
Phone: (+354) 552 5200 / (+354) 895 5200
Email: skjaldarvik@skjaldarvik.is
Webpage: www.skaldavik.is
The rental is 15 minutes (driving) north of Akureyri, Skjaldarvík farm offers bike rental with optional delivery to Akureyri.
Price (2018)
Half day (4 hours) - ISK 2.200 - book here
One day, up to 24 hours - ISK 3.500 - book here
Two days - ISK 2.900 per day
Three days+ - ISK 2.500 per day
Discount for families (please ask)
Delivered and pick up to a hotel or apartment - ISK 2000.-
---
Akureyri Activities
Sportsver, Glératorg
IS-600 Akureyri
Email: info@akureyriactivities.is
Webpage: www.akureyriactivities.is
Akureyri Activities consists of a group of friends that love the sport of riding bikes. A very passionate group about delivering a high-end experience to it's customers.

The guides are all local riders who have been exploring the trails around Akureyri for years and building new ones. They know the area better than most and can offer their customers tours of some hours to several days and leaving all the stress of finding the right trails and right equipment to them.
On all tours the guides will have a backpack with them, with spare tubes and other tools needed for smaller repairs along with safety first kit for smaller accidents.
Cycling in North Iceland is an great experience and a way of ultimate adventure.
---
AKUREYRI LOVE BIKE TOURS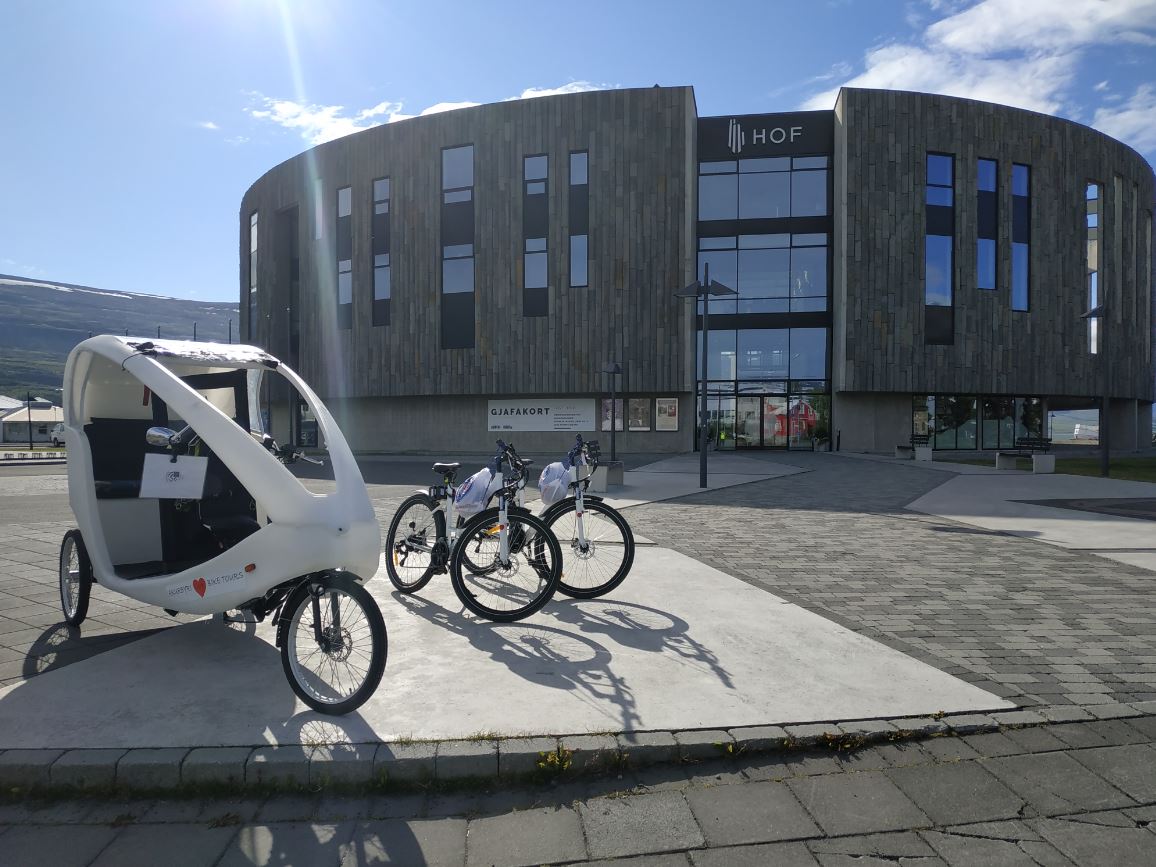 Facebook: Akureyri Love Bike Tours
Phone: (+354) 680 4976 Pablo / (+354) 623 0484 Ester
Email: akureyrilovebiketours@gmail.com
Akureyri Love bike tours offers guided tours in ricksaw and bicycle, and also the possiblity to rent up to 3 adult bikes.
1.  Guided sightseeing tours around the city and surrounding.
- Guide
- E-bikes (electric bike) 
- Helmet and lock included.
- Duration: 3 - 4  hours tour.
- Price:  9000 isk (per person)
2. Rental of E- Bikes (electric bike)
- E-bike
- Helmet and lock included.
- 4 hours (minimum rental)
- Price: 7000 isk (per person)