Hestaleigan Kátur
May-October: Kaupvangsbakkar, Eyjafjarđarsveit
601 Akureyri
November-April: Sörlaskjól 6
603 Akureyri
Phone: (+354) 695 7218 
E-mail: ferdafakar@gmail.com
Web: www.hestaleiga.is
You Tube: https://www.youtube.com/channel/UCpvipCAO5M222x2VpZ-FKWQ
The Horse Rental Hestaleigan Kátur in Akureyri offers 1-2 hour-long guided riding tours every day. Families, groups or single travellers, everyone is welcome! Hestaleigan Kátur also offers custom-made trips, tailored to your wishes. It doesn't matter whether you are an experienced horseback rider or not, the right horse will be chosen for you.
The trips take place all year-long at daylight hours according to prior arrangement. In summer (May - October) we start the riding tours at our cabin in Kaupvangsbakkar. Here we ride along the beautiful river Eyjafjord with view over the mountains. In winter (November - April) we meet at the stabels just outof-town. Both locations are reachable within a 5-10 minutes drive from the center of Akureyri. At least one guide accompanies the guests on each riding tour. For safety reasons, we offer helmets, safety stirrups and safety vests for little kids. Children who are 13 years old or younger need to be supervised by an adult. Additionally, we supply car rides from Akureyri to the horse rental for the fee of 1500 ISK per person. By the way, the Icelandic word "Kátur" means happy. There is no such thing than experiencing the stunning Icelandic nature on horseback. :) A highlight you shouldn't miss on your trip to Iceland.
(Please not that there is a weight limit of 120 kg/240 Lbs)
Pólar Hestar
Grýtubakki II
601 Akureyri
Phone: (+354) 463 3179
Fax: (+354) 463 3144
Email: polarhestar@polarhestar.is
Web: www.polarhestar.is/e
In the North of Iceland, at the longest fjord of Iceland, Eyjafjördur, lies dreamly Grytubakki, our farmhouse.
Since 1985 Grytubakki is the starting point of a variety of long and short riding tours in an extraordinary landscape.
About 70 horses live with us during the whole year and during the months of June, July and August some other 20 join the herd. Curious young horses, mysterious cities of the Elves, a Viking treasure hidden in the ground, attractive valleys, rivers and a colourful world of wonders are waiting for the guest.
We ride through remote valleysto the North Atlantic and with a herd of freely running horses to Lake Myvatn, the famous lake of the midges.
In the autumn, when the first snow-flakes are announcing winter, our guests may experience our new riding tour "Autumn Colours and Northern Lights" - a fascinating tour through the autumnal landscape of Northern Iceland.
Since the year 2000 we are offering tours in the South of the country.
The Polar Hestar - riding tours are from different length and suitable for experienced and less experienced riders.
Let yourself be enchanted by the fascinating world of Iceland on horseback!
Open the whole year. Transport from Akureyri can be arranged.
Horse rental Skjaldarvík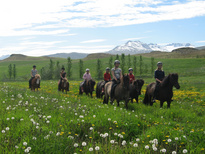 Skjaldarvík
601 Akureyri
Phone: +354 552 5200 / +354 895 5200
Email: skjaldarvik@skjaldarvik.is
Webpage: http://www.skaldavik.is/
Skjaldarvik Riding Tours offer short tours in the area surrounding Skjaldarvik.
The company offers 1,5 hour riding tour, suitable for all ages. They try to respond to special requests, so don't hesitate to contact them if you have a special request.
They have a good variety of riding horses , suitable for beginners or experienced riders. Safety is important and riding helmets and safety vests are standard equipment for all the riding tours.
Free access to the hot tub for all guests that come horseback-riding.
Tours available:  At 10:00, 14:00 and 17:00. Night trips on request
Pickup: From Akureyri and back (on request)
The horse rental is open April - October.
Riding Club Léttir
The local riding Club-Léttir organizes riding courses, riding tournaments and riding shows. For further information contact lettir@lettir.is.