In many places in the North you can join a whale-watching tour; Eyjafjörður is a good location to see whales. From time to time bottlenose whales, humpbacks and mink whales have even been seen deep in Eyjafjörður, even right in front of Akureyri. Several companies in the north specialize in whale watching. These include Ambassador and Whale Watching Akureyri in Akureyri, Whale Watching Hauganes in Hauganes (aprox 25 min drive from Akureyri) and Arctic Sea Tours in Dalvik (aprox 30 min drive from Akureyri). Beside this there are also other tours available by an arrangement by these companies mentioned here above and others like Húni II etc.
---

Ambassador
Torfunefsbryggja
600 Akureyri
Phone: (+354) 462 6800
Email: info@ambassador.is 
Web: www.ambassador.is
Akureyri Whale Watching
Departuring from Akureyri this roughly 3 hour tour offers a full whale watching and wildlife experience in the first class comfort of The Ambassador. Brimming with wildlife the fjord offers breathtaking mountain scenery, lush green valleys and a unique coastal landscape peppered with iconic small farms and villages.
Several whale species can be spotted on the tour e.g. Humpback Whale, Minke Whale, White Beaked Dolphins & Harbour Porpoise.
Season: May - October. For schedule visit the webpage. It is also possible to order special tours for groups.

Roughly three hour whale watching tour. Six different whale watching platforms. 360° degree panorama from top deck. Commentary through on board sound system. Climate controlled indoor cabin with toilet facilities. Comfortable cushioned seats, large wooden tables & ample space. Light snacks, sandwiches, coffee, beer & soft drinks available on board.
---
Whale Watching Akureyri
Whale Watching Akureyri.
600 Akureyri
Tel: +354 497 1000. 
Email: info@whalewatchingakureyri.is
Web page: www.whalewatchingakureyri.is.  
Departures from the floating pier at Hof Cultural house. 
We guide and operate whale watching tours in North-Iceland, from the sea side town of Akureyri, on the magnificent Eyjafjord. Join our day tours and experience the famous Eyjafjord Humpback Whales in their natural habitat.

Whale Watching Akureyri operates from the floating pier at Hof Cutural and Concert hall in the heart of down town Akureyri. We offer two types of vessels, a great value whale watching tour on our specially modified sightseeing ships or an adventurous, up close and personal wildlife tour on our custom made RIB boats.
Daily opening hours: 8:00 - 18:00 at the harbour. Call center open til 22:00. 
---
Keli Seatours 
Oddeyrarbót 2
600 Akureyri
Email: info@keliseatours.is
Web: www.keliseatours.is
Keli Seatours is a family company owned by three brothers, Egill, Halldór and Sævar Áskelssons who purchased a 40 year old oak boat in 2015 built in 1975 by their father. The whale watching is taking place in Eyjafjörður two times a day around 2 p.m and around 8 p.m.
---
Arctic Sea Tours
Svarfaðarbraut 14
620 Dalvík
Tel: +354 771 7600
Book@ArcticSeaTours.is
www.ArcticSeaTours.is

Open all year.
Arctic Sea Tours is a family company offering whale watching tours from Dalvik 30 minutes drive from Akureyri.They emphasize on personal service and small groups of passengers. Artic Sea Tours is committed to make your experience a special one, filled with unforgettable moments. The Arctic Whale Watching tours are an adventure in Eyjafjörður that also include fishing for 10-15 minutes, a fish cutting demonstration, hot drinks and local refreshments and finally, a taste of fresh fish from the grill at the end of the tour.
They saw whales or dolphins in 99% of the tours in 2011 and catch fish within 10 minutes. The Company operates one licensed oak passenger boat which has been equipped according to strict standards set by the Icelandic Maritime Administration. The entire crew has been specially trained by The Maritime Safety and Survival Training Centre.

The daily schedule is folowing;
Morning tour 09:00 March - October,
Midday tour 13:00 June - September, Jan-Feb
Evening tour 17:00 15. June - 15. August,
Midnight tour 20:30 15. June - 10. August.
Read reviews from guests about Arctic Whale Watching on TripAdvisor.
TRADEMARKS:
Arctic Whale Watching · Arctic Sea Angling · Arctic Villages 
---

Whale Watching Hauganes
Hauganes harbour
621 Hauganes (Dalvikurbyggd/Dalvik municipality)
Phone 867 0000
E-mail: whales@whales.is
Website: www.whales.is
Whale Watching Hauganes is the oldest whale watching tour operator in Iceland. Founded in 1993, we specialise in whale watching and sea angling. 

Our company operates from Hauganes, a small fishing village on the west side of Eyjafjörður, just 30 km North of Akureyri (a short 25 minute drive). From this picturesque town, our tour will quickly immerse you in the midst of the whale populations and rich sealife characteristic of the area. Wether the whales have ventured deep into the fjord or stay closer to Hrisey, they are always just a short trip away from Hauganes. 

Our boats and whales
Enjoy a comfortable tour on our two traditional Icelandic oak boats while observing the fantastic scenery, birdlife, and of course the diverse range of whale species of Eyjafjordur. Commonly, we see Humpback Whales, Minke Whales, Harbour Porpoise, and White Beaked Dolphins. If you're lucky, you may even catch a glimpse of a Killer Whale or a Blue Whale! Enjoy a little sea angling on the return trip and have your catch filleted to take with you. 

Carbon neutral tours
Carbon emissions play an ever-increasing role in environmental issues such as climate change. With our carbon neutral program we neutralize the carbon emissions we create through our special Whale Forest forestry plan. We offset our carbon dioxide emissions by planting one tree for each whale watching tour to sequester the amount of carbon equivalent to our emissions. Also, our oak boats run partially on biodiesel made from recycled cooking oil from restaurants. Our guests can therefore be assure that by travelling with Whale Watching Hauganes they minimize their carbon footprint. Good for our guests and of course amazing for the environment!

Each one of our captains spend their winters as professional fishermen so you can be assured you're in good hands during the summer season of whale watching. In 2016 we had a 100% success rate of spotting whales and expect no less in 2017!

We offer two different tour options in 2017; Whale Watching + Sea Angling, and 100% Whale Watching. The daily schedule (approx. 3 hour tour) is as follows:

May 1st. until May 14th.: 13:30 (1:30 p.m.)
May 15th. until June 10th.: 9:30 (9:30 a.m.), 13:30 (1:30 p.m.)
June 11th. until July 10th.: 9:30 (9:30 a.m.), 13:30 (1:30 p.m.), 18:00 (6:00 p.m.)
July 11th. until August 25th.: 9:30 (9:30 a.m.), 10:30 (10:30 a.m.), 13:30 (1:30 p.m.), 14:30 (2:30 p.m.), 18:00 (6:00 p.m.) 
August 26th. until September 10th.: 9:30 (9:30 a.m.), 13:30 (1:30 p.m.), 18:00 (6:00 p.m.)
September 11th. until September 30th.: 9:30 (9:30 a.m.), 13:30 (1:30 p.m.)
October 1st. until October 31st.: 13:30 (1:30 p.m.)

Each tour includes coffee and pastries as well as warm safety clothing. All the equipment you may need to enjoy sea angling/deep sea fishing is available for you on board the ship.
---
Hjalteyri Whale watching
601 Hjalteyri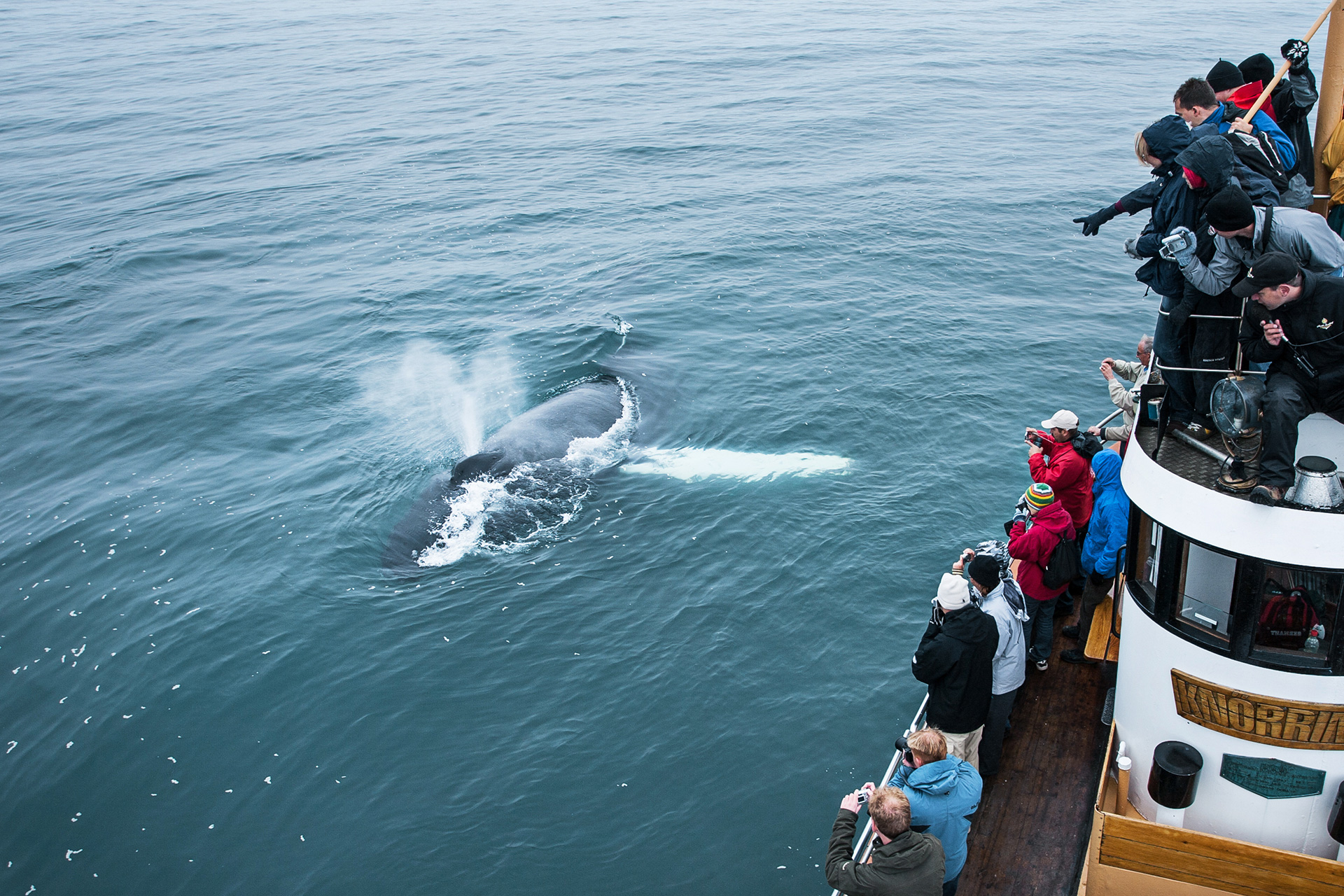 Phone 840 7250
E-mail: hjalteyri@northsailing.is
Website: www.whalewatchinghjalteyri.is
Try a unique 2-hour whale watching tour from the charming village of Hjalteyri, a well-kept secret in North Iceland. Only a 15 minute drive from Akureyri.
Timetable. May: 10:00, 13:00 and 16:00. June-August: 10:00, 13:00, 16:00 and 19:00. September 1st-September 14th: 10:00, 13:00 and 16:00.