Hrísey is a small island in the middle of Eyfjafjörður 35 km from Akureyri with population of 170. The first weekend in July a Family Festival has been held since 1997.
In 2019  it is to be held on weekend of 13th-14th of July. During this weekend the islanders invite people to come and enjoy music, tractor trailer rides, taste local food among many other things.

The festivities begin Friday afternoon with separate adventure tours for kids, teenagers and grown ups. The main festivities begin around noon on Saturday and go on into the night. There will be music, tastes of local food, orienteering, a playground, tractor trailer rides, a trip to the beach with the world famous local clown and lots of other activity. In the evening there will be a program on the stage in the village centre, campfire and everybody joins in singing. The festival is free of charge.
This festival is first and foremost a family festival where everyone should find something to his or her liking. Scheduled ferry connects Hrísey to the village Árskógssandur, about 35 km from Akureyri. There are up to nine departures a day; each crossing is about 15 minutes. Here is the schedule for the ferry and all transportation to and from the island.
All information about how to get to Hrísey and other details can be found on www.hrisey.is. 

Popular things to do in Hrísey are a tractor sightseeing trip in a hay wagon and a museum about shark fishing and the local history. Hrisey is also known as the tranquil energy point where you can recharge your batteries with the mysterious lay-line power emerging from the great Mount Kaldbakur on the mainland. Service includes overnight facilities, a restaurant shop and geothermal swimming pool.  
Friday 12th July
15.00-18.00 Backyard coffee 
18.00 Children's surprise trip
22.00 Surprise trip with Hjálmar Örn
Saturday 13th July
13.00 Program starts
- Coffee and cakes sold by the local woman's association - Tractor rides around the village - Fun and games by the sportcenter - Traditional dances - The Hrísey tournament in pan-football/soccer - Music on the stage - Stúlli and Danni - A trip to the beach with Skrall the clown - Orienteering - Group driving of the tractors
21.00 Fireside
- Bjartmar Guðlaugsson among others. Bonfire and a sing-along.
Opening hours
Hríseyjarbúðin - Local shop
Fri: 11.30 - 22.00
Sat: 10.00-24.00
Sun: 12.00 - 16.00
Swimming pool
Fri: 10.30 - 19.00
Sat: 10.30 - 17.00
Sun: 10.30 - 17.00
Verbúðin 66 - Restaurant
Fri: From 11, kitchen open until 20.30
Sat: From 11, kitchen open until til 20.30
Sun: From 11-22, kitchen open until 20.30
Hrísey Ferry Sævar
From Hrísey: 9.00 - 11.00 - 13.00 - 15.00 - 17.00 - 19.00 - 21.00 - 23.00 - Extra ferry Saturday at midnight
From Árskógssandur: 9.30 - 11.30 - 13.30 - 15.30 - 17.30 - 19.30 - 21.30 - 23.30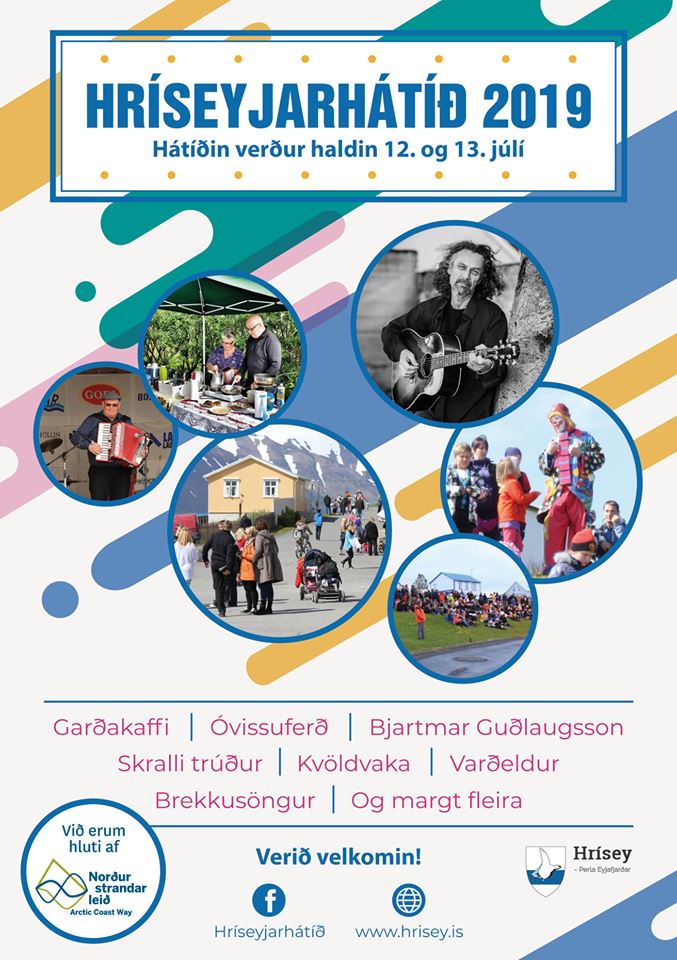 For more information visit www.hrisey.is/en