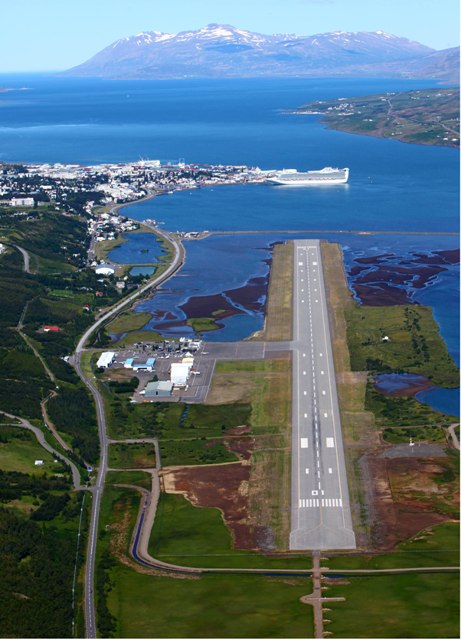 Akureyri International Airport is one of four international airports in Iceland and the only one located in North Iceland. It is open all year round.  There are four to nine daily flights to Reykjavík, good connections to other destinations in North Iceland, as well as scheduled flights to Greenland.
Opening hours:
Regular opening hours 07:00 to 23:00 daily, all year.
Exceptions: 24.th and 31.st December open 07.00 to 16.00 both days. Closed: New Years Day (1.st January), Easter day and Christmas Day (25.th December).
Extended opening hours are offered in connection with charter flights, all year.
How to get there:
Distance between airport and Akureyri city center is aprox 3 km (Approx 30 min walk or 5 min drive).
Taxis are usually located at the airport, but can also be ordered at: Phone (+354) 461 1010, Email: bso@bso.is
For those walking, there is a nice walking path going from town center (Hafnarstræti), below the theatre and through the old town leading to the airport.

Services at the airport:
- Four car rentals are located at the airport; Hertz, Avis, Europcar and Thrifty.
- A bistro is located in the terminal offering food, snacks and drinks.
- Air Iceland takes care of ground handling at the airport such as check-in, luggage ect.
- Duty Free shopping for international travellers.
- Information regarding arrivals and departures
Several airlines are operating at the airport:
- Air Iceland: Schedule flights between Akureyri and Reykjavík
- Norlandair: Schedule flights between Akureyri and; Grímsey, Greenland, Vopnafjörður and Þórshöfn á Langanesi.
- Myflug Air: Operates ambulance flights which are available 24 hours a day as well as sightseeing flights.
Travel agencies in the area offer direct flights from Akureyri to various destinations.
The airports webpage: http://www.isavia.is/english/airports/akureyri-international-airport/
For details about the airport