Flights to Iceland
Several airlines offer scheduled routes to Iceland  (Keflavik International Airport) on whole year basis, from destinations in Europe and USA, see list below. To travel to Akureyri from Keflavík International Airport one can fly directly or travel to the domestic airport in Reykjavík and fly from there. 
If heading for the domestic airport in Reykjavik. There are different ways to get between the Terminals. If you are driving or picking up a passenger at the Airport there are both short term and long term paring at the airport. You can take the Flybus, taxi or rent a car. It is about 45 minutes drive between the terminals and the flight to Akureyri with AirIceland to Akureyri is about 30 minutes www.airiceland.is 
List of airlines flying to Iceland 2016 
Direct Flights through Keflavík to Akureyri
Air Iceland will start operating direct domestic flights between Keflavik and Akureyri from the 24th of February 2017 in connection to international flights via Keflavik. Customers can book the whole trip to/from Akureyri, making it easy to travel to and from Akureyri from most international destinations. 
Flights will be operated all year round, up to six times a week during the winter season and three times a week during the summer,
according to schedule that can be found on the link below.

To begin with, these flights are only intended for those who are either coming off or going on an international flight through Keflavik.
For more detailed information about the schedule days and times, visit: Air Iceland webpage.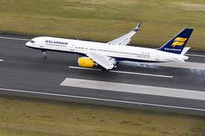 Flights to Greenland from Akureyri

The details of the new scheduled route Akureyri (AEY)-Nerlerit Inaat (CNP)- Akureyri (AEY) are as follows:
Norlandair will be operating a scheduled route to Nerlerit Inaat on the east coast of Greenland from Akureyri, starting from the 6th of March 2013.
The flight schedule:
March - May (2 times a week, Tuesdays and Thursdays), June (1 time a week, Thursdays), July (1 time a week, Wednesdays), 
August (1 time a week, Wednesdays), September ( 1 time a week, Thursdays) 
Flightbookings on www.airiceland.is or via phone +354 414 6960 (Norlandair).
Other important notes. The helicopter from Constable Pynt to Ittoqqortoormiit is booked seperately on Air Greenland's webiste www.airgreenland.dk
Ferry
A ferry connection is available between Iceland and the European mainland. The ferry connects Denmark, The Faroe islands and the village Seydisfjordur in the East of Iceland. For further information visit: www.smyril-line.com.
Travel Agencies

For bookings or information contact one of the local
travel agencies.